---
Home | Search | About Us | FAQ | Reviews | Contact Us
---
Illustrated Encyclopedia of Human Anatomic Variation: Opus IV: Organ Systems
Pancreatic Ducts
Ronald A. Bergman, PhD
Adel K. Afifi, MD, MS
Ryosuke Miyauchi, MD
Peer Review Status: Internally Peer Reviewed
---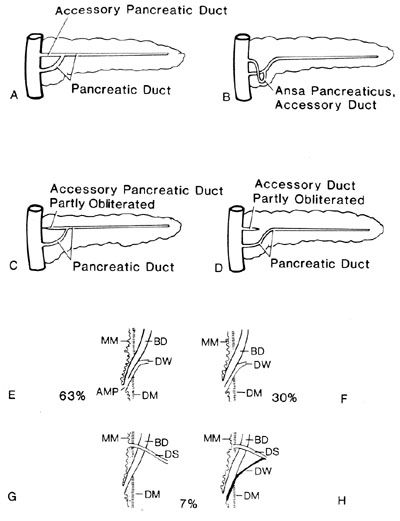 | | |
| --- | --- |
| A | Pancreatic duct system in which dorsal and ventral pancreatic ducts have fused to form the combined pancreatic duct (Wirsung) and the accessory pancreatic duct (Santorini) entering the duodenum at the minor papilla |
| B | Pancreatic duct system showing the "ansa pancreatica" formed by the proximal part of the accessory duct, the inferior branch of the dorsal duct, and the inferior branch of the ventral duct |
| C | Pancreatic duct system showing obliteration of the accessory duct at its entrance into the duodenum |
| D | Pancreatic duct system showing obliteration of the accessory duct at its entrance into Wirsung's duct |
| E | Type I. The bile duct and the duct of Wirsung join together in the duodenal wall to form the hepatopancreatic duct and open through it into the duodenum |
| F | Type II. The two ducts are separated throughout their extent by a septum and open separately at the summit of the major duodenal papilla |
| G, H | Type III. The whole pancreas is drained by the duct of Santorini. The duct of Wirsung is either reduced to a fibrous cord or is absent |
In the present series of 100 specimens, 63 belonged to Type I, 30 to Type II, and 7 to Type III. In one case classifed as type II the duct of Santorini was larger than the duct of Wirsung. In 63 cases belonging to Type I, the hepatopancreatic duct varied in length from 1 mm to 14.5 mm.
| | |
| --- | --- |
| AMP | hepato-pancreatic duct |
| BD | bile duct |
| DM | duodenal muscle |
| DS | duct of Santorini |
| DW | duct of Wirsung |
| MM | mucous membrane |
Redrawn (A-D) from Dawson, W. and J. Langman. An anotomical-radiological study on the pancreatic duct pattern in man. Anat. Rec. 139:59-68, 1961; and (E-H) from Singh, I. Observations on the mode of termination aof the bile and pancreatic ducts: Anatomical factors in pancreatitis. J. Anat. Soc. India. 5:54-60,1956.
Section Top | Title Page
---
Home | Search | About Us | FAQ | Reviews | Contact Us
---
Anatomy Atlases is curated by Michael P. D'Alessandro, M.D. [Google+ Profile] and Ronald A. Bergman, Ph.D.

Please send us comments by filling out our Comment Form.

All contents copyright © 1995-2014 the Author(s) and Michael P. D'Alessandro, M.D. All rights reserved.

"Anatomy Atlases", the Anatomy Atlases logo, and "A digital library of anatomy information" are all Trademarks of Michael P. D'Alessandro, M.D.

Anatomy Atlases is funded in whole by Michael P. D'Alessandro, M.D. Advertising is not accepted.

Your personal information remains confidential and is not sold, leased, or given to any third party be they reliable or not.

The information contained in Anatomy Atlases is not a substitute for the medical care and advice of your physician. There may be variations in treatment that your physician may recommend based on individual facts and circumstances.

URL: http://www.anatomyatlases.org/
This site complies with the HONcode standard for trustworthy health information:
verify here.