---
Home | About | FAQ | Reviews | Search
---
Atlas of Microscopic Anatomy: Section 9 - Lymphatic System
Plate 9.172 Spleen
Ronald A. Bergman, Ph.D., Adel K. Afifi, M.D., Paul M. Heidger, Jr., Ph.D.
Peer Review Status: Externally Peer Reviewed
---
SPLEEN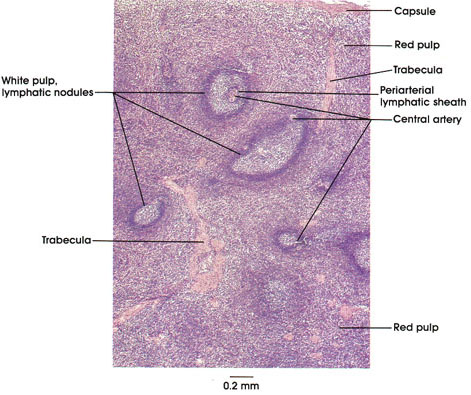 Human, 10% formalin, H. & E., 35 x.
The spleen is the largest single accumulation of lymphoid tissue in the human body. it is also the most important in-line filter for the blood vascular system. Its primary function is to remove (1 X 106/second) wornout red blood cells and to store and recycle their component parts. Iron is removed from heme, conserved, and reused within the bone marrow to synthesize new hemoglobin. Hemoglobin (without the iron) is converted into bilirubin, which is excreted by the liver as a part of bile.
The spleen contains both B and T lymphocytes; thus, it is also important in the immune defense system. The spleen, as already suggested, contains massive numbers of macrophages, which also remove lining pathogens as well as inert substances from the blood stream. Lipids, when in excess, are also removed from the blood, and lipid-laden cells are frequently found in the spleens of diabetics. The spleen in humans is also considered a blood storage organ. Finally, during fetal development, the spleen is also a hematopoietic organ, producing blood cells.
At low magnification, the most prominent features of the spleen include lymph nodules with germinal centers, trabeculae that incompletely divide the splenic pulp into compartments. Also, the splenic hilum, not seen here, permits entry and departure of blood vessels and the entry of nerves. Finally, the spleen does not have lymphatic vessels; hence, lymphocytes produced in the spleen enter the blood stream directly through splenic sinusoids.
The lymphatic nodules contain, primarily, B lymphocytes, although those lymphocytes surrounding central arteries, the periarterial lymphatic sheath (PALS), are thought to be mainly T lymphocytes.
The red pulp is composed of sinusoids and cellular cords (of Billroth), which contain, but are not always easy to identify, reticular cells, lymphocytes, wandering macrophages, monocytes, plasma cells, and granulocytes.
Next Page | Previous Page | Section Top | Title Page
---
Home | About Us | FAQ | Reviews | Contact Us | Search
---
Anatomy Atlases is curated by Michael P. D'Alessandro, M.D. and Ronald A. Bergman, Ph.D.

Please send us comments by filling out our Comment Form.

All contents copyright © 1995-2018 the Author(s) and Michael P. D'Alessandro, M.D. All rights reserved.

"Anatomy Atlases", the Anatomy Atlases logo, and "A digital library of anatomy information" are all Trademarks of Michael P. D'Alessandro, M.D.

Anatomy Atlases is funded in whole by Michael P. D'Alessandro, M.D. Advertising is not accepted.

Your personal information remains confidential and is not sold, leased, or given to any third party be they reliable or not.

The information contained in Anatomy Atlases is not a substitute for the medical care and advice of your physician. There may be variations in treatment that your physician may recommend based on individual facts and circumstances.

URL: http://www.anatomyatlases.org/