---
Home | About | FAQ | Reviews | Search
---
Atlas of Microscopic Anatomy: Section 16 - Special Senses
Plate 16.304 Iris and Lens
Ronald A. Bergman, Ph.D., Adel K. Afifi, M.D., Paul M. Heidger, Jr., Ph.D.
Peer Review Status: Externally Peer Reviewed
---
IRIS AND LENS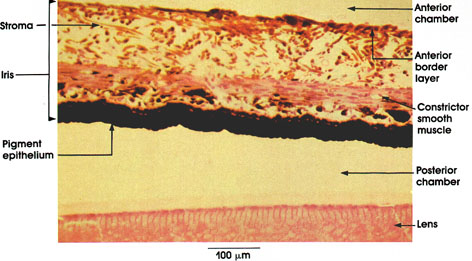 Rhesus monkey, 10% formalin, H. & E., 162 x.
The iris, like the ciliary body, is a continuation of the retina and choroid. It is attached to the ciliary body and extends in front of the lens. All the layers of the iris are shown in this figure except the endothelial cell layer, which outlines the anterior boundary of the iris. This is a thin and delicate layer, which is difficult to see in ordinary light microscopic preparations.
Anterior chamber: Located anterior to the iris and communicates with the posterior chamber through the pupil. Contains aqueous humor.
Anterior border layer: A condensation of the stroma of the iris. Formed principally of pigment cells containing a variable amount of yellowish-brown pigment. Thickness of this layer determines the color of the iris. It is thin in blue-eyed individuals and thick in brown-eyed individuals.
Stroma: Consists of loose connective tissue, in which are found a large number of blood vessels. Pigment connective tissue cells are scattered in this loose connective tissue stroma.
Constrictor smooth muscle fibers: Constricts the pupil. Supplied by the parasympathetic postganglionic neurons of the oculomotor nerve located in the ciliary ganglion.
Pigment epithelium: Continuation of the ciliary epithelium. Vast amounts of melanin pigment obscure cell boundaries and nuclei.
Posterior chamber: Between the iris and the lens. Communicates with anterior chamber through the pupil. Contains aqueous humor.
Lens: See Plate 302.
Next Page | Previous Page | Section Top | Title Page
---
Home | About Us | FAQ | Reviews | Contact Us | Search
---
Anatomy Atlases is curated by Michael P. D'Alessandro, M.D. and Ronald A. Bergman, Ph.D.

Please send us comments by filling out our Comment Form.

All contents copyright © 1995-2018 the Author(s) and Michael P. D'Alessandro, M.D. All rights reserved.

"Anatomy Atlases", the Anatomy Atlases logo, and "A digital library of anatomy information" are all Trademarks of Michael P. D'Alessandro, M.D.

Anatomy Atlases is funded in whole by Michael P. D'Alessandro, M.D. Advertising is not accepted.

Your personal information remains confidential and is not sold, leased, or given to any third party be they reliable or not.

The information contained in Anatomy Atlases is not a substitute for the medical care and advice of your physician. There may be variations in treatment that your physician may recommend based on individual facts and circumstances.

URL: http://www.anatomyatlases.org/