---
Home | About | FAQ | Reviews | Search
---
Atlas of Microscopic Anatomy: Section 17 - Central Nervous System
Plate 17.321 Spinal Cord
Ronald A. Bergman, Ph.D., Adel K. Afifi, M.D., Paul M. Heidger, Jr., Ph.D.
Peer Review Status: Externally Peer Reviewed
---
SPINAL CORD
Lumbar region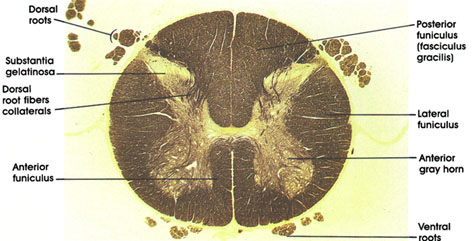 Human, 10% formalin, Well, 8 x.
Dorsal roots: Central processes of dorsal root ganglion cells. Convey afferent (sensory) impulses to the spinal cord from peripheral receptor organs. See plates 114, 316, 317, 318, and 323.
Substantia gelatinosa: Cap-like structure at the head of the posterior horn. Extends the whole length of the cord. Contains small neurons about 6 to 20 µm in diameter and is the primary associative center of the posterior horn for incoming impulses carried by the dorsal root. This nuclear mass is an important part of the pathway for pain, temperature, and some tactile impulses.
Dorsal root fiber collaterals: Heavily myelinated dorsal root fiber collaterals that enter the spinal cord to modify pain transmission or establish segmental reflexes.
Anterior funiculus: Between the anterior median fissure and anterolateral sulcus (ventral roots). Merges with the lateral funiculus. Contains several ascending and descending tracts.
Ventral roots: Bundles of somatic motor fibers (axons of somatic motor neurons in the anterior horn). Constitute the efferent outflow of the spinal cord.
Anterior gray horn: A mass of large multipolar motor neurons and interneurons. Axons of motor neurons form the ventral roots. Compare size of anterior gray horn at this level with those seen at higher and lower levels.
Lateral funiculus: Between the dorsal and ventral roots. Merges with the anterior funiculus. Contains major ascending and descending fiber tracts, including the lateral corticospinal, spinothalamic, and spinocerebellar tracts.
Posterior funiculus (fasciculus gracilis): The posterior funiculus at this level contains the fasciculus gracilis only, whereas at higher levels (above the sixth thoracic spinal segment), it contains the fasciculi gracilis and cuneatus. Compare size of the posterior funiculus at this level with that at levels below and above.
Next Page | Previous Page | Section Top | Title Page
---
Home | About Us | FAQ | Reviews | Contact Us | Search
---
Anatomy Atlases is curated by Michael P. D'Alessandro, M.D. and Ronald A. Bergman, Ph.D.

Please send us comments by filling out our Comment Form.

All contents copyright © 1995-2018 the Author(s) and Michael P. D'Alessandro, M.D. All rights reserved.

"Anatomy Atlases", the Anatomy Atlases logo, and "A digital library of anatomy information" are all Trademarks of Michael P. D'Alessandro, M.D.

Anatomy Atlases is funded in whole by Michael P. D'Alessandro, M.D. Advertising is not accepted.

Your personal information remains confidential and is not sold, leased, or given to any third party be they reliable or not.

The information contained in Anatomy Atlases is not a substitute for the medical care and advice of your physician. There may be variations in treatment that your physician may recommend based on individual facts and circumstances.

URL: http://www.anatomyatlases.org/