---
Home | Search | About Us | FAQ | Reviews | Contact Us
---
Atlas of Human Anatomy
Arteries and veins of the right side of the neck.
Translated by: Ronald A. Bergman, PhD and Adel K. Afifi, MD, MS
Peer Review Status: Internally Peer Reviewed
---
Magnified View (via Quicktime VR)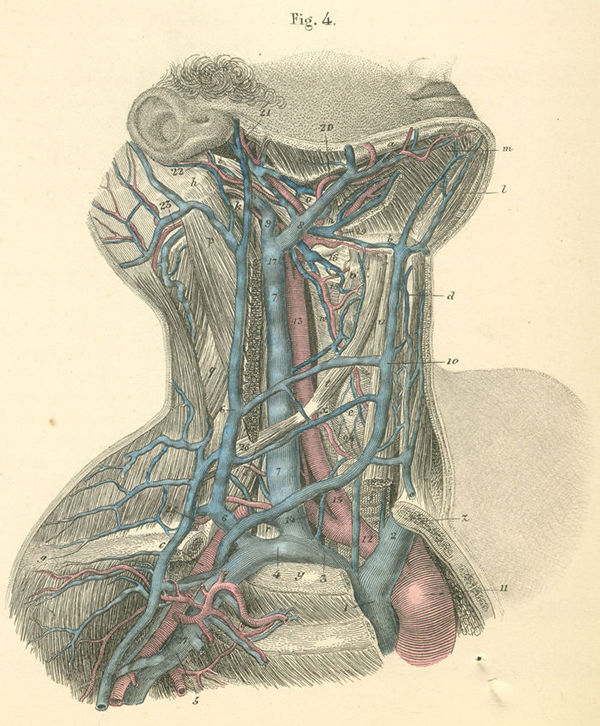 a) Mandible.
b) Hyoid bone.
c) Clavicle.
d) Larynx.
e) Thyroid gland.
f) Trachea.
g) Acromion, scapulae.
h) Mastoid process.
i) Styloid process.
k) Atlas, transverse process.
l) m. Digastric, anterior belly.
m) m. Mylohyoideus.
n) m. hyoglossus.
o) m. Styloglossus.
p) m. Sternocleidmastoideus.
q) m. Levator anguli scapulae.
r) m. Scalenus anterior.
s) m. Scalenius medius.
t) m. Omohyoideus.
u) m. Sternohyoideus.
v) m. Thyrohyoideus.
w) Pharynx.
x) Esophagus.
y) First rib.
z) Manubrium sterni.
superior vena cava.
innominate vein (s. left common jugular vein).
right innominate vein ( right brachiocephalic vein).
right subclavian vein.
axillary vein.
external jugular vein.
internal jugular vein.
external cephalic vein.
internal cephalic vein.
middle jugular vein (s. subcutaneous colli or cervicle).
aortic arch.
innominate (brachiocephalic) artery.
right common carotid artery.
right subclavian artery.
axillary artery.
external carotid artery.
internal carotid artery.
superior thyroid artery.
lingual artery.
maxillary artery.
temporal artery.
posterior auricular artery.
occipital artery.
inferior thyroid artery.
transverse scapular artery.
transverse colli (cervicle) artery.
external thoracic artery.
---
Home | Search | About Us | FAQ | Reviews | Contact Us
---
Anatomy Atlases is curated by Michael P. D'Alessandro, M.D. [Google+ Profile] and Ronald A. Bergman, Ph.D.

Please send us comments by filling out our Comment Form.

All contents copyright © 1995-2014 the Author(s) and Michael P. D'Alessandro, M.D. All rights reserved.

"Anatomy Atlases", the Anatomy Atlases logo, and "A digital library of anatomy information" are all Trademarks of Michael P. D'Alessandro, M.D.

Anatomy Atlases is funded in whole by Michael P. D'Alessandro, M.D. Advertising is not accepted.

Your personal information remains confidential and is not sold, leased, or given to any third party be they reliable or not.

The information contained in Anatomy Atlases is not a substitute for the medical care and advice of your physician. There may be variations in treatment that your physician may recommend based on individual facts and circumstances.

URL: http://www.anatomyatlases.org/
This site complies with the HONcode standard for trustworthy health information:
verify here.